Hi, my name is Jessica and I have an RSS problem.
I subscribe to more websites and blogs than I can possibly read, and I read them all anyway. Even though I no longer have my own nuptials to plan, I still love reading about weddings. I guess it runs in the nature of a wedding photographer. So, in this obsessive reading I do, I run across lots of stuff that just begs to be shared with people who can actually use it. Let's check it out, shall we?
-Photographer Mike Stimpson has set out to reenact classic photographs using Legos. My personal favorite is Alfred Eisenstaedt's 1945 V.J. Day Times Square:
See this one and more on the photographer's Flickr stream.
-Victoria's Secret has bridesmaid's dresses. Really! They are (surprisingly) quite cute, and I wouldn't mind having the 7-in-1 number for myself. This would have been so helpful for my bridesmaids, who wore the same color, but different styles.

-These hand-painted wedding cakes look so awesome.
-Cute bouquet idea: build your bouquet as you're walking down the aisle by having your guests hand you flowers.
-Have you made a wedding etiquette faux-pas? Feel better about it by checking out the stories at Etiquette Hell. Categories include: "Bridesmaids and Beastmen," "Gimme Gimme Gimme," and "Titanic Wedding Disaster." Whatever you've done will almost certainly pale in comparison. There is, of course, a "Perfect Bride" section for inspiration.
-Once you've been thoroughly freaked out by Etiquette Hell, lighten up with these wedding one-liners and jokes.
-Forbes has a nice piece on how to handle wedding planning at work. Essentially, it discusses the etiquette of inviting coworkers-and being aware of who you're sharing your plans with.
-Canon takes a hammer to damaged products and photographers everywhere weep. This one in particular makes me sad: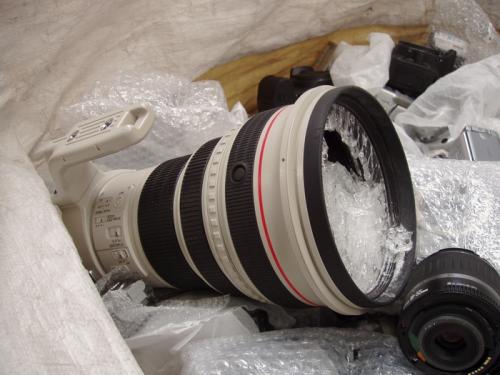 Check out the rest of the carnage here. Bring tissues.